Entrance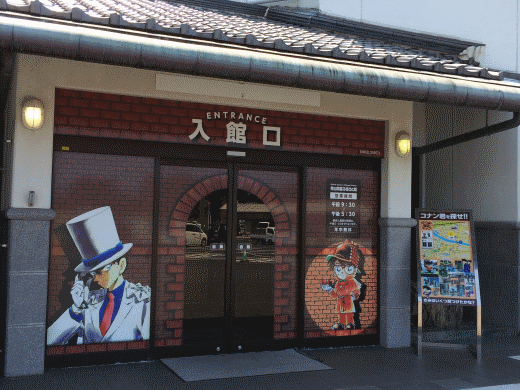 Welcome to Hokuei Town, the hometown of Gosho Aoyama. We hope your visit here and appreciation of his works and his world will let you feel the attractiveness of this great manga artist.
At the entrance, the door is made in the shape of a key hole. Original characters of the Manga Factory will welcome you, and you will feel the joy of "solving problems," while touring around in the Factory.
Features
The Character Welcomes You from the Key Hole!

When you enter the Factory, you will first see the character of Gosho Aoyama Manga Factory. He welcomes you, changing into various colors.
What kind of "problem solving" is waiting for you?
Look for the Key Holes!!

In the Factory, there are several key holes. If you look through them, you can find quizzes to enjoy. Look for the holes, and answer the quizzes.