AOYAMA WORLD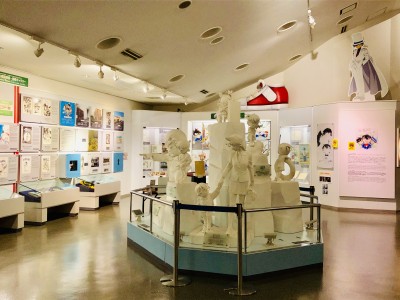 Introduces and narrates Gosho Aoyama's history, love for detectives, and globally appreciated works in his world.
Features
3D Map of Hometown, Hokuei/Showcase of Boyhood
Features displays and explanations, including pictures and stored items, of Gosho Aoyama's boyhood in Hokuei Town, as well as the 3D map of Hokuei Town.

Symbol Object of Detective Conan

The white model of Detective Conan is illuminated in various colors.

Trace the History of Gosho Aoyama

Presents you the traces of Gosho Aoyama, from his days in Hokuei Town, to his college life, and the moment when "Detective Conan" was created, as well as displays and introduction of his works and stored items.
The introduction of his previous works and 3D manga pictures of some best scenes are also offered.

History of Gosho Aoyama
Presents Gosho Aoyama's history, from his birth and life in Hokuei Town, to his successful career as a manga artist, using documents, photos, and screen images.